Shop
We are a leading boutique fashion store based in the centre of Monmouth, South Wales
Myroo Skincare Superfood Balm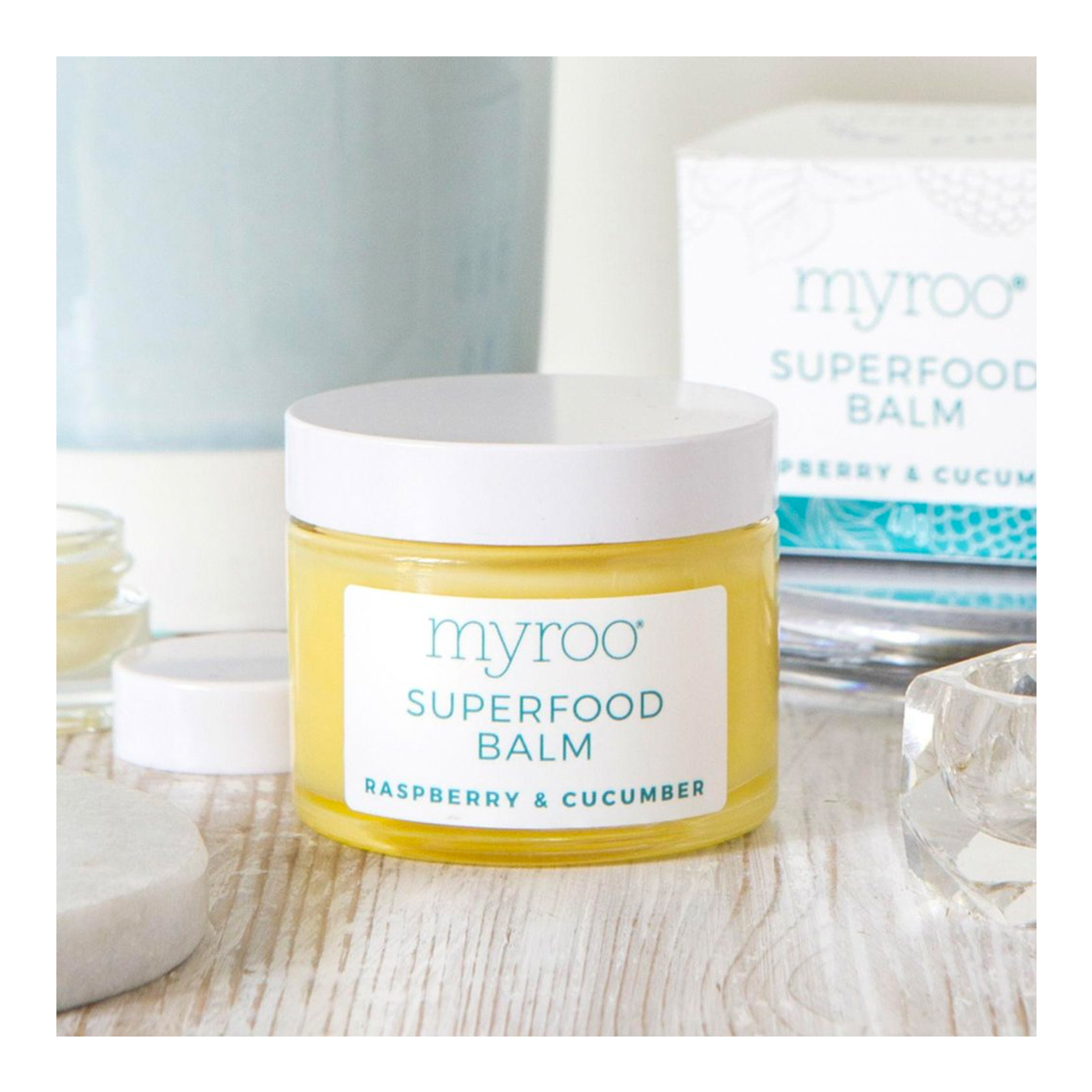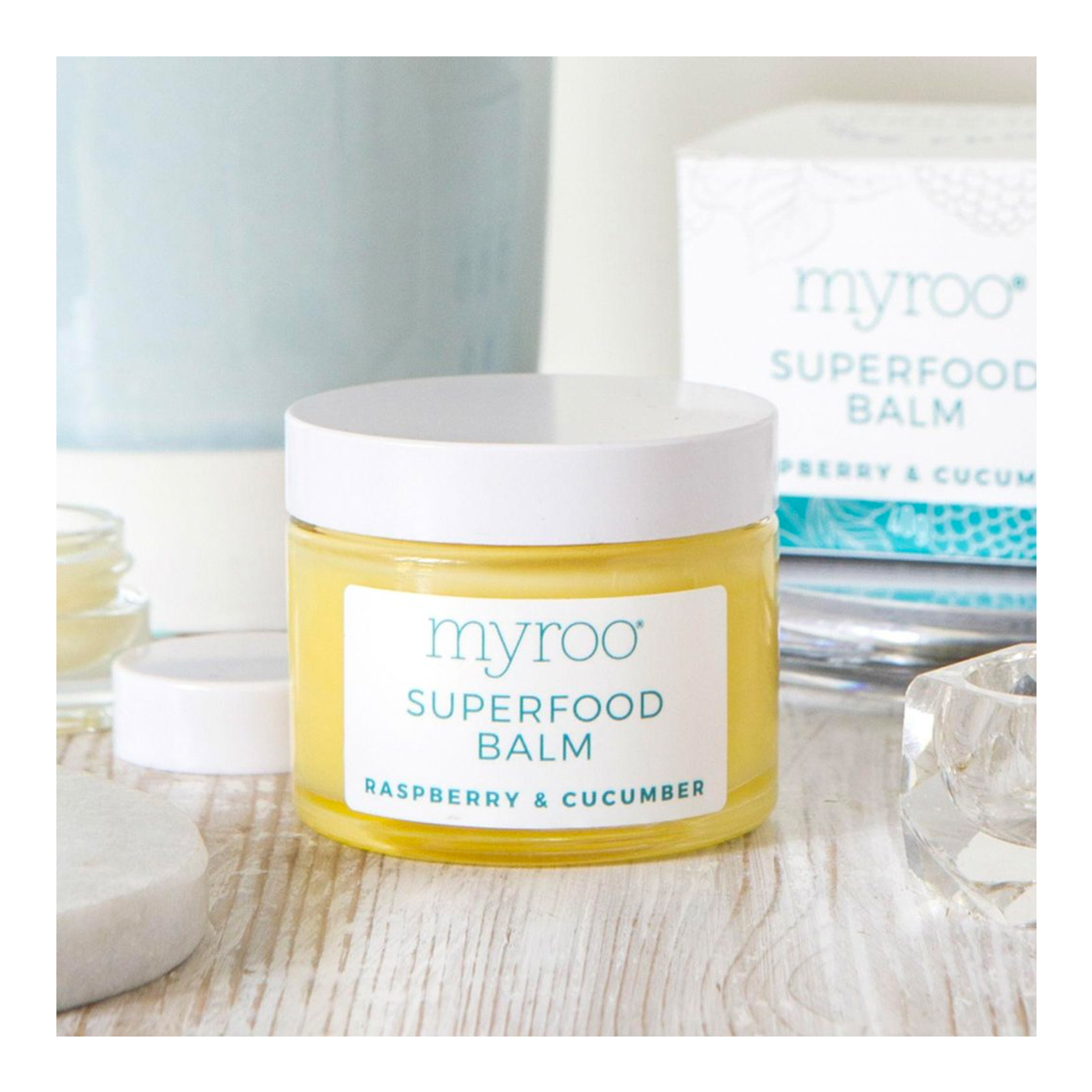 Myroo Skincare Superfood Balm
Award-winning concentrated superfood based balm with a beautiful smooth texture, contains cucumber, raspberry, mango, papaya, carrot, avocado, olive and more.
Suitable for all skin types - multi functional and totally indispensable. Use on dry, chapped patches; knees, elbows, heels or cuticles. Use on fly away hair ends or eyebrows. Suitable for all skin types but specially formulated for sensitive or allergy-prone skin.Try as an overnight treat for tired skin or melt in your hands for a wonderful massage oil. Also available as part of a Myroo Mini Trial Size Set or Fragrance Free.
The uses are endless and, like all our products, the concentrated formula means a little goes a long way.
Concentrated superfood based balm with a beautiful smooth texture
Packed with plant based goodness, it contains omega 3, 6 and 9, multiple vitamins, minerals and antioxidants from cucumber, raspberry, mango, papaya, carrot, avocado, olive and more.
Helps protect and repair the skin's natural barrier to the elements
Prevents water loss and helps the skin maintain its natural moisture
Protects, nourishes and feeds skin and hair
Organic, Vegan, Gluten free, Nut free
Cruelty free / not tested on animals
Size 40g
STAR INGREDIENTS
Raspberry Seed Oil - Rich in oleic and linoleic acids, raspberry seed oil is very high in vitamins E and A, making it an excellent antioxidant. It also has anti-inflammatory properties.
Cucumber Seed Oil - High in omega 6 & 9, natural tocopherols and phytosterols, it is protective and strengthening and encourages regeneration of healthy skin cells.

HOW TO USE
Our Superfood Balm is packed with organic, plant based goodness. It's a wonderfully versatile product for all over. Use to tame hair or on chapped skin, on dry cuticles, knees, heels or elbows. Try as an overnight treatment for tired skin or melt in your hands for a massage oil.

FULL INGREDIENTS
Helianthus Annuus (Sunflower) Seed Oil, Mangifera Indica (Mango) Seed Butter, Cocos Nucifera (Coconut) Oil, Carica (Papaya) Seed Oil, Persea Gratissima (Avocado) Butter, Hydrogenated Vegetable (Olive) Oil - Olea Europea - Tocopherol, Brassica Oleracea Italica (Broccoli) Seed Oil, Cucumis Sativus (Cucumber) Seed Oil, Rubus Idaeus (Raspberry) Seed Oil, Olive Squalane, Calendula Officinalis Flower Extract, Rosmarinus Officinalis (Rosemary) Extract, Beta-Carotene, Citrus Nobilis (Mandarin) Peel Oil, Coriandrum Sativum (Coriander) Seed Oil, Zingiber Officinale (Ginger) Root Oil, *Linalool, *d-Limonene, *Geraniol
*Naturally occurring in essential oils